Provo High School

In Memory
Greg Peterson
Gregory Dean Peterson, age 32, returned to his Heavenly Father on December 17, 1993 at his home in West Jordan.
He was born April 28, 1961 in Provo, a son of Edward A. and Betty H. Peterson. Greg attended school in Provo, graduating from Provo High School and LDS Seminary. He served an LDS mission to Spokane, Washington.Upon returning from his mission, Greg enrolled in Biosystems of Arizona where he majored and graduated in repiratory therapy. He was employed at the University of Utah Medical Center in the newborn Intensive Care Unit. He loved his work with premature babies and the people he worked with. Greg was an avid skier in winter and mountain biker in the summer. He found peace in both sports and competed regularly in skiing events. Greg was an academic enthusiast. He continued taking college classes at the U of U in various interests.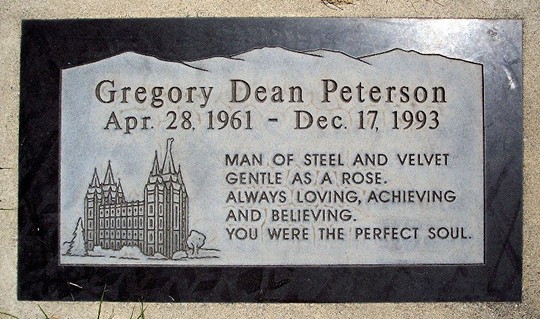 He is survived by his mother, Betty H. Peterson of Provo; four sisters: Rosemarie (Michael) Gleave, Seattle, Wash.; Deanna (Joe) Williams of Clinton, Utah; Shirlene (James) Anderson of Loonis, Calif.; Debra (Kelly) Wing of Ogden, Utah; two brothers: Richard (Carolann) Peterson of Richfield; E. Rodney (Pam) Peterson of Ft. Scott, Kansas; 27 nieces and nephews; 13 great-nieces and nephews. He was preceded in death by his father, one brother and one niece.
Each of us has lost a little piece of ourselves today. We will miss our youngest son and brother more than words can express. "We hope peace will be yours, Greg."
Services will be held Tuesday, December 21, 1993, 1 p.m. at the Walker Family Mortuary, 85 East 300 South, Provo, where friends may call Monday, 7-8:30 p.m. and one hour prior to services. Burial will be at the Orem City Cemetery.
Special thanks to Don Shelly for providing research.