Provo High School

In Memory
Kent Brereton
Obituary:
Date November 11, 2001

Norman Kent Brereton

Our beloved Daddy, Son, Brother, light of our lives, and best friend, Norman Kent Brereton, joined his Father in Heaven, his grandparents Elery E. Kelsey, Eva P. Kelsey, and Opal Brereton on November 8, 2001. Kent was born in Toul-Rosiere AB, France on September 21, 1960 to Norman B. Brereton and DeAnna Kelsey Brereton. He married Ronnita Stewart in Provo. They were later divorced.

Kent's beautiful daughters were the highlight of his life. They were his soul, his spirit, and his everything. He will be greatly missed by them.

Kent enjoyed life to the fullest. He was an avid golfer, fisherman, and hunter. He loved camping, the great outdoors, and BYU ball games. Kent loved traveling to Wyoming, Nebraska, and the Dakota's in the fall to help his father in the family fruit business. His life long goal was to be able to carry on the & amp;quot;Brereton & amp;quot; fruit business. Kent loved working in his yard and keeping it manicured to perfection. He was a highly skilled carpenter known for his excellent work throughout Utah Valley and built several custom homes in the area. Kent worked for Boswell & Olson Construction Company and traveled extensively on the west coast.

Kent is survived by his beautiful daughters Jessica Lynn and husband Brian Taylor of San Clemente, CA; and Desire & amp;eacute; Joie of Shelton, WA; his mother DeAnna Moberg and stepfather Al Moberg of Spokane, WA; his father Norman B. Brereton of Provo; brother Steve Brereton of Provo; sister LeAnn Swanson and husband and dear friend Shane Swanson; little sister Kathy Brereton of Orem; brother Jeremy Brereton of Provo; grandfather Morris A. Brereton of Provo; nieces and nephews Colby and Colton Swanson, Kelsey Johnson and Dallas Richards of Orem, and Tyler and Dylan Brereton, Danielle Brereton, and Chad Quick of Provo; and numerous aunts, uncles, and cousins.

Kent, we know you are with your Heavenly Father in the most wonderful place. We will miss you and your loving ways and kind thoughts. You will live in our hearts forever and ever and we will love you forever and ever.

Funeral services will be held Tuesday, November 13, 2001 at 11:00 a.m. at the Provo Berg Mortuary Drawing Room Chapel, 185 East Center Street. Friends may call at the mortuary Monday evening from 7-9 p.m. as well as on Tuesday one hour prior to services. Interment will be at East Lawn Memorial Hills immediately following the funeral service.

"Every moment of this strange and lovely life, from dawn to dusk, is a miracle. Somewhere, always, a rose is opening its petals to the dawn. Somewhere, always, a flower is fading in the dusk. The incense that rises with the sun, and the scents that die in the dark, are all gathered, sooner or later, into the solitary fragrance that is God. Faintly, elusively, that fragrance lingers over all of us."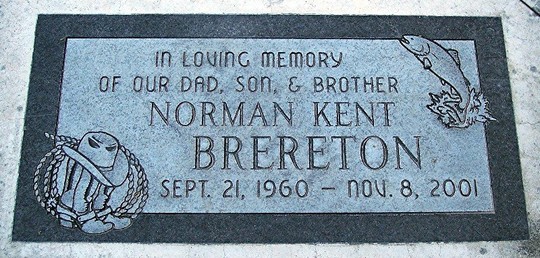 Special thanks to Don Shelley for providing both the headstone picture and obituary.