Provo High School

In Memory
Knute Knudsen VIEW PROFILE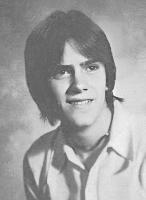 Knute Burch Knudsen
18 July, 1961- 3 July, 2021
Katy's favorite memory of Knute was when someone brought Kurt and Becky's family some cookies one day, and someone complained there was a hair in one, and Knute (cutting hair at the time) said everything he did and ate had hair in it.
His droll sense of humor kept friends and family laughing through his 59 years here on earth. A couple of weeks ago, Kerry, Knute's roommate, found him on the floor wedged between the wall and a tiny trampoline. Knute's response when asked what he was doing; "I guess I fell down." Ann said, "One of my favorite memories of Uncle Knute was when he taught me how to hang from a monkey bar with my legs using no hands."
As a three-year-old, his keen observation was evident as he named each car by make and model as he watched out the car window. His love of cars never left him. From Gigi; "I remember Knute's convertible. I don't remember the make, model, or even the color, but it was CONVERTIBLE! And once he took me for a ride in it, all by myself and with the top down. I felt so special and cool and loved." (It was a Cadillac, Gigi).
His memory was legendary. He was intelligent and creative. And loved to bake. And tease. Laura's earliest memory of Knute is of him reaching through the banister railings trying to grab our legs as we'd squeal and run back and forth down the hallway trying to escape Knute's grasp.
In the 80's, Knute took up residence in Park City on Park Avenue in a second-story condo his parents, Fae and Wes, generously provided for him. His favorite attire was a leather Stetson hat and Carhartt overalls—preferably quilted. He walked the streets, even in summer, in his overalls, pockets filled with loot. His friend, Scott noted Knute's kind heart, letting people couch surf when they needed a place to stay.
Knute attended B.Y. U. Elementary School, Farrer Jr. High, and Provo High. His friends, Glen, Kip, Mary Ellen, Sharlynn and Kristen, were life-long, and fiercely faithful. In Park City his long-time friends were Jon and Dave, nephew Ben, plus many others.
His life was challenging. He dealt with bipolar disorder, type 2 diabetes, chronic back pain, and arthritis. On June 21st, his angelic friend Serena, found him disoriented in his condo. She said, "I'm taking you to the hospital." He protested, and she said, "either you're going in my car, or I'm calling an ambulance and they will come with sirens screaming and all the neighbors will watch you be carried out on a stretcher." "Okay, you can take me."
At the hospital, tests indicated blood sugar was 801, and his A1C was 10.8. Levels that would have killed someone lesser. From the Park City Hospital, he was life-flighted to IHC in Murray where he spent 13 days in Intensive Care. He received excellent care. They quickly got his levels back to normal, which usually reverses the Diabetic Ketoacidosis, but it left him unresponsive. He was in a state of "excited catatonia," and the medical team of neurological and cardiac physicians, as well as dedicated nurses, had never seen a patient like Knute. Knute was dying.
Did I mention he loved dogs?! He had six or seven through the years. Knute and one of his dogs were immortalized by an artist. It's a bronze of Knute, sitting in a captain's chair as a young man, his straight hair parted down the center, stretched out in the chair with his long, skinny legs in front of him. His dog by his side, with his head leaning on Knute's cowboy boots.
One night while still in intensive care, the head nurse buzzed in a man and a woman with her service dog. They confidently walked to room two where Knute was being treated. The man picked up the dog and he licked Knute's face. It was Knute's "service dog," Tank Jr. And the service companions were Knute's friends, Serena and Scott. It was a request Knute had made to Serena if he was ever in a situation such as this.
After fasting, prayer, and a lot of agonizing discussions, his siblings decided to take him off life support. He was transferred to a care facility where his kind hospice nurse Brenna made him comfortable as he passed. He died two days later. Karen, Karla, Kurt, Rebecca, and Charlotte, as well as nephews, Wes, Glen, Adam, Mark, and Jacob were there on his final day to bid him goodbye and God bless. Knute you are one of a kind. And you are loved!
His parents are Wesley Floyd and Fae Burch Knudsen. His siblings and spouses are Kent and Charlotte Knudsen, Karen and Gary Henderson, Kristine and Newt Andrus, Karla and Tom Womble, and Kurt and Rebecca Knudsen.
Friends and family are invited to a memorial service and light supper, Friday, July 9th, 7:00 pm, Fox Hollow Park, Saratoga Springs. Please bring a chair and a memory of Knute. Interment Provo City Cemetery.
Click here to see Knute's last Profile entry.